take a journey through our gallery
Discover the elegance, grandeur, and unforgettable moments that await you at our historic venue.
Some of the photos on our website are outdated and from the previous owner. Since then, our venue has undergone significant updates. Explore The Rotunda's transformation with a tour of our venue. Contact us today!
Eager to step into The Rotunda's captivating world of timeless elegance? Dive into our gallery to preview the enchanting ambiance, then schedule your in-person tour. Discover firsthand the perfect venue for your unforgettable event.

Discover What Sets The Rotunda Apart
History of The Rotunda: A Triumph of Architectural Excellence
Crafted from Bedford Limestone, The Rotunda stands as a remarkable exemplar of Classic Revival architecture, enhanced by 20th-century Neo-Classicism refinements. Six fluted Doric columns majestically rise nearly two stories above the expansive curved portico.

A meticulously crafted shallow coffered dome, adorned with copper, pays homage to time-honored traditions of quality and craftsmanship.

The exterior's harmonious ornamentation extends seamlessly through the vestibule and beyond. The Rotunda boasts a 35-foot lobby, exuding refined elegance. The colonnade of stately two-story red marble columns is crowned with intricately detailed gold capitals.

By day, natural light filters through a stunning stained glass skylight, casting its radiance onto the circular coffered dome. As night falls, tiered gold chandeliers, spanning an impressive four feet in width, envelop the space in a gentle ambiance, infusing warmth into every corner.
Experience the Elegance
Ready to witness the historic elegance and modern luxury of The Rotunda in person? Schedule your tour today and embark on a journey through our timeless venue.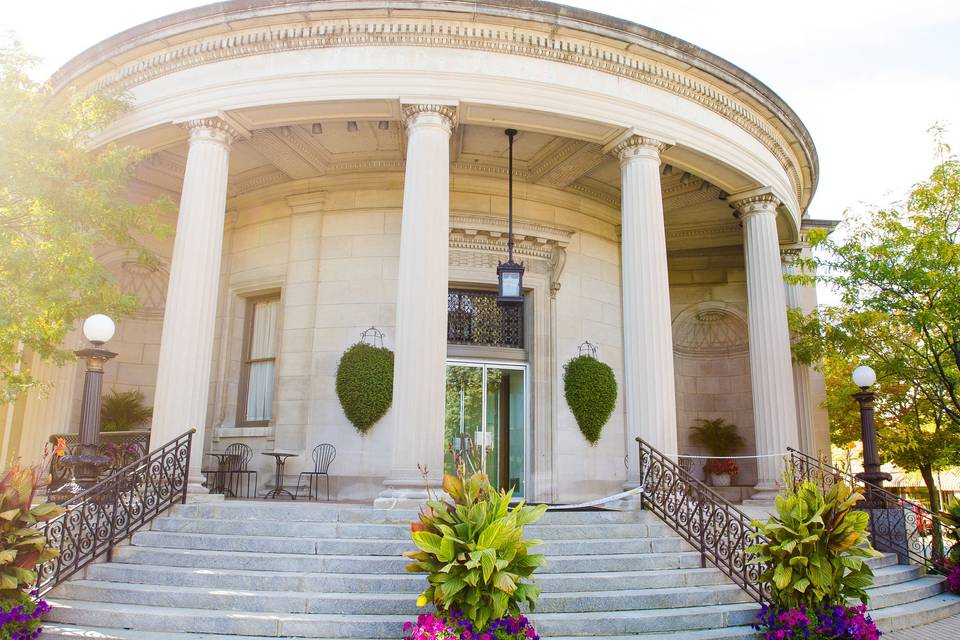 My wife Melaine and me couldn't be happier with our wedding at The Rotunda. The venue was stylish and clean with the a hint of classical architecture.
Mark Guttu
The Rotunda experience was amazing... The venue was stunning! My niece had a Cinderella theme wedding & the atmosphere, presented it all... I will recommend the Rotunda as a *GREAT* venue to all inquiries looking for that exceptional (Banquet Hall)!
Patricia Robertson
The Rotunda was the first and only venue we looked at for our wedding. It is absolutely gorgeous! The architecture is so beautiful. Our wedding was about 130 people and we didn't even set up tables on the 2nd floor for guests, so there is plenty of room for more guests.
Katherine Freibergs
I was there to deliver a wedding cake. The place is really pretty (probably even better at night!) And the staff was so very helpful, organized and really nice people.
Lori Merner