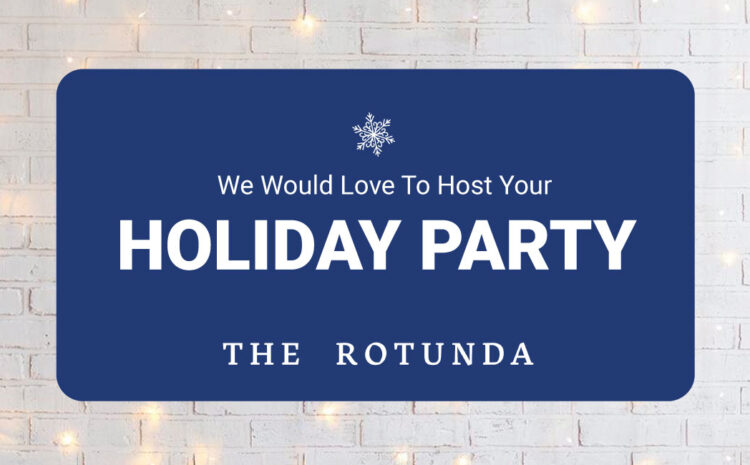 Host Your Holiday Event at The Rotunda in Waukesha, WI
Elevate your events to a new level of sophistication at The Rotunda in Waukesha, WI. Its rich history and opulent ambiance make it the perfect venue for holiday parties, weddings, and corporate gatherings. Book now!
The holiday season is just around the corner, and what better way to celebrate than by hosting your festive gatherings at The Rotunda in Waukesha, Wisconsin? Nestled in the heart of southeastern Wisconsin, The Rotunda is a meticulously restored banquet facility that exudes timeless elegance and offers a splendid backdrop for your holiday events and parties. With its rich history, luxurious amenities, and capacity to accommodate up to 200 guests, The Rotunda is the perfect setting to create unforgettable memories this holiday season.
The Grand Dome and Hand-Painted Walls:
At the heart of The Rotunda stands a magnificent grand dome, a true masterpiece of architectural beauty. Adorned with intricate hand-painted walls, this central feature creates an atmosphere of opulence and sophistication that will leave your guests in awe. Imagine the twinkling lights and festive decorations that can adorn this stunning space, making it the ideal venue for your holiday soirées.
The Upper Mezzanine and Hospitality Suite:
For those seeking a touch of exclusivity and privacy, The Rotunda's upper mezzanine offers an elevated vantage point for your guests to admire the grandeur below. It's a space that can be transformed to fit your holiday event needs, whether you're planning a cozy cocktail party, a grand gala, or anything in between. Additionally, the upper mezzanine houses a hospitality suite, perfect for ceremonies and receptions, providing a stylish and tranquil space for honored guests to prepare and relax before the festivities begin.
Outdoor Elegance on the Veranda:
Take your holiday celebration outdoors to The Rotunda's veranda and front steps, where you and your guests can revel in the crisp winter air while sipping cocktails and enjoying appetizers. The addition of small bistro tables brings a touch of the venue's elegant interior to the open air, creating an inviting setting for mingling and creating cherished memories. The generous front stairway also serves as an ideal backdrop for capturing unforgettable photographs against the backdrop of the hall's grandeur.
Personalized Holiday Events:
At The Rotunda, your holiday event dreams can become a reality. Whether you're planning an intimate family gathering, a corporate holiday party, or a large-scale festive gala, their experienced team is dedicated to ensuring every detail is executed to perfection. From customizing the décor to curating a delectable holiday menu, they will work closely with you to bring your vision to life.
This holiday season, elevate your celebrations to a new level of luxury and elegance by hosting your events and parties at The Rotunda in Waukesha, WI. With its historic charm, breathtaking grand dome, and versatile event space, The Rotunda promises to make your holiday gatherings truly unforgettable.
Book your holiday event at The Rotunda today and treat your guests to an experience they will cherish for years to come. Don't miss the opportunity to celebrate the season in style at this premier event venue.

Reserve Your Date and Experience Holiday Magic
Discover a timeless venue where luxury meets history. Host your special event at The Rotunda in Waukesha, Wisconsin, and create unforgettable moments in a meticulously restored masterpiece.