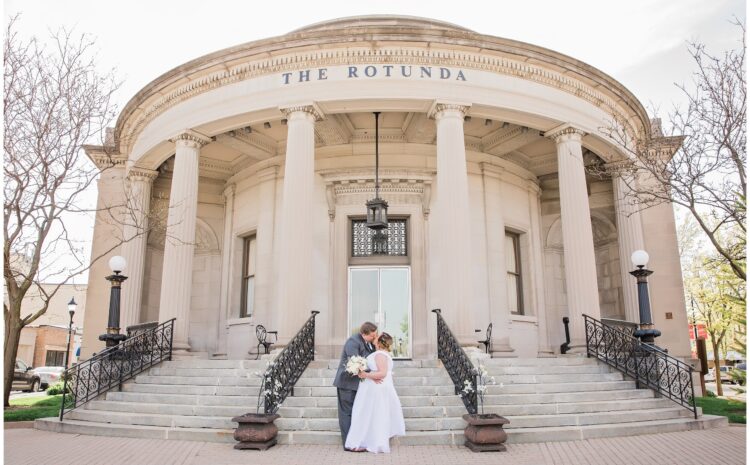 The Rotunda Reopens Under New Ownership
Are you ready for an exciting announcement? The creators of The Clybourn and The Mitch are thrilled to introduce you to their latest masterpiece: The Rotunda! Located in downtown Waukesha, The Rotunda is set to reopen its doors on September 10th, 2023 and it's ready to start booking for events taking place at the end of 2023 and beyond. If you're looking for an affordable venue that allows you to create your own unique experience without breaking the bank, look no further.
The Rotunda was the first and only venue we looked at for our wedding. It is absolutely gorgeous! The architecture is so beautiful.

Katherine
Your Vision, Your Way
At The Rotunda, we believe that your event should reflect your personal style and preferences. That's why we offer you the freedom to customize your event in ways that many other venues don't. Here are four fantastic reasons why you'll love The Rotunda:
Bring Your Own Cuisine
Tired of cookie-cutter catering options? At The Rotunda, you have the freedom to bring your own cuisine! Whether you have a favorite local restaurant in mind or you want to showcase your family's culinary talents, our venue welcomes your choice of food to make your event truly memorable.
Bring Your Own Vendors
We understand that you may have a preferred team of vendors in mind. From photographers to florists, you can bring your own trusted vendors to The Rotunda. Our goal is to make your event as stress-free and enjoyable as possible, and that includes working with the professionals you trust.
Ample Parking Across the Street
Parking can be a hassle at many venues, but not at The Rotunda. We have a spacious parking facility conveniently located just across the street, ensuring that your guests can arrive and depart with ease. No more circling the block in search of parking spots!
Downtown Waukesha's Vibrant Atmosphere
Located in the heart of downtown Waukesha, The Rotunda is just one block away from People's Park. This means there are plenty of fabulous places to visit before and after your event. Whether you want to explore charming local shops, enjoy a meal at a nearby restaurant, or simply take a leisurely stroll, our location offers endless possibilities.
Book Your Tour Today
Are you as excited as we are about The Rotunda's reopening? Don't miss out on the opportunity to host your event in this remarkable space. To book your tour and start planning your dream event, contact us at 414-364-3761, email [email protected], or click the button below.
Our team is ready to assist you in creating an unforgettable experience at The Rotunda, where affordability meets flexibility, and your vision becomes a reality. We can't wait to welcome you to our beautiful venue in downtown Waukesha!